Welcome to IOPSpark
Search our activities, videos and more
We have thousands of resources to help you teach physics
Editor's picks
Ideas Students Have
Materials to help you identify and address misconceptions.
Trusted Content
Resources written by experts with a wealth of teaching experience.
Physics Focused
Tried and tested lesson ideas for every physics classroom.
Explore by Domain
Navigate through a rich variety of content organised by different areas of the physics curriculum, including student activities, lesson plans, teaching guidance and more.
Physics Links Explorer
Explore the links between different parts of the physics curriculum.
Explore
Explore Collections
We provide access to rich content in both physics and physics pedagogy, giving you the tools you need to grow your teaching expertise.
Manifesto for change
Through the Limit Less campaign, the IOP wants to support young people to change the world and fulfil their potential by doing physics.
Please sign up to the manifesto today so that we can show our politicians that there is widespread support for improving equity and inclusion across the education sector.
Sign today
The Future's Bright for IOPSpark
Want to see what we're working on next? Come and take a look!
Visit Our Roadmap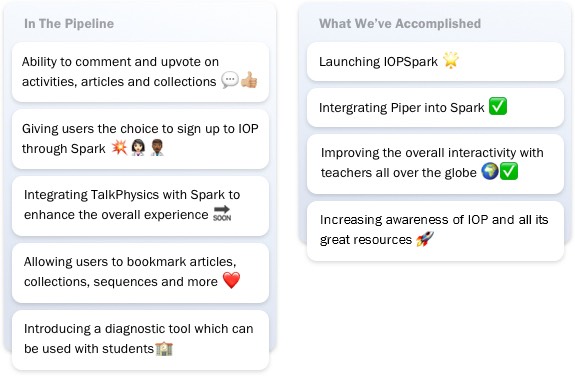 2023 IOP Awards
Teachers of Physics Awards
Recognising and celebrating outstanding contributions to the field of physics education.
Learn more