Welcome to IOPSpark
Unlimited Access to Over
2,000

Physics Teaching Resources

We bring together hundreds of teaching activities so you can find the right approach for your class.
Classroom Physics editor's picks
Ideas Students Have
Materials to help you identify and address misconceptions.
Trusted Content
Written by experts with a wealth of teaching experience.
Physics Focused
Tried and tested ideas for every physics classroom.
Explore by Domain
Navigate through a rich variety of content organised by different areas of the curriculum.
Physics Links Explorer
Explore the links between different parts of the physics curriculum.
Explore
IOP DOMAINS Physics CPD programme
Our online CPD programme has been developed and delivered by experienced physics teachers and coaches offering tailored content to meet the needs of a wide range of teachers. The programme covers all the domains of physics included on IOPSpark over the course of the academic year. 
Explore
Explore Collections
We provide access to rich content in both physics and physics pedagogy, giving you the tools you need to grow your teaching expertise.
We have been awarded the EDUCATE Evidence Aware EdWard
EDUCATE is a rigorous and comprehensive training programme designed to help EdTech organisations to develop, evaluate and improve their products and services with the use of research evidence.
Learn More
The Future's Bright for IOPSpark
Got a great new idea for how we could improve the site? Wondering if we've fixed that bug yet? Have a suggestion for a new resource? Fill out our improvement survey.
Want to see what we're working on next? Come and take a look!
Visit Our Roadmap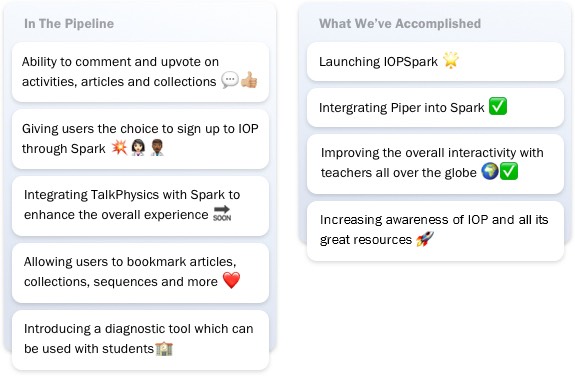 IOP DOMAINS PHYSICS CPD PROGRAMME
Matter and Nuclear CPD videos
Our new set of videos gives teachers and coaches of physics a preview of the training we offer ahead of this term's live support sessions.
Learn more